2 June 2020
How youth volunteering transforms young people and healthcare
The current coronavirus pandemic has put into even higher definition the work of the NHS. While we often recognise doctors, nurses and other essential health workers, many people aren't aware of the contribution of volunteers, and particularly young volunteers.
In NHS trusts across England, youth volunteering projects in hospitals are supported by the Pears #iwill Fund, a match fund created by the Pears Foundation, the National Lottery Community Fund and the Department for Digital, Culture, Media and Sport.
For Volunteers' Week, NHS partners are reflecting on the #PowerOfYouth, and have shared a short blog for every day of the week!
Monday – The vital role young volunteers play in supporting health
Nakkita Charag, NHS Cadets Advisory Group – Youth Co-Chair
During this crisis, pre-COVID networks established by volunteers have proved invaluable in supporting the community, especially in deprived areas. In the heart of all communities, young people have been taking part in social action by responding to the NHS's call for volunteer responders, aiding the vulnerable by delivering food and medication, fundraising, or undertaking key worker roles.
As a young St John Ambulance member and NHS Cadets Youth Co-Chair, I have been volunteering with the NHS Cadets programme to help those from disadvantaged BAME communities attain transferable skills and providing them with a pathway into healthcare. Cadets and NHS Youth Forum are providing online wellbeing resources to cope during lockdown and are teaching more people to better utilise their digital skills and stay connected. No matter how big or small, every action is making a difference.  Young people have stayed resilient throughout this crisis, offering their time and support to positively impact their communities.
Tuesday – From caring at home, to the community, to the NHS
Christopher Barton, 17, Children and Young People Transformation Board Youth Member    
"As a young person, I have found volunteering to be a great way to give back to my community and help those who are in need. I am a young carer which often keeps me busy but I still try to volunteer as much as I can. Volunteering has helped me develop. I have grown as a person and pushed myself outside of my comfort zone. Through volunteering to help homeless people, I have strengthened my leadership skills, which has given me a major confidence boost.
To raise money for a charity supporting homeless people, I have been involved with a range of activities – from hosting events, to bag packing at the supermarket, to collecting food for a local foodbank. I saw my work having a positive impact and helping people. I wanted to continue helping people and this is one of the many things that motivated me to work with the NHS as a youth member of the NHS Children and Young People's Transformation Board. I encourage other young people to volunteer as you never know where it might lead you!"
Wednesday – Covid-19 response in West Hertfordshire
West Hertforshire Hospitals NHS Trust –www.westhertshospitals.nhs.uk › joinourteam › volunteer
During Covid more than 300 people from the local community have signed up to volunteer supporting West Heatrforshire NHS, and 25% of these are under 25.  There have been 1500+ hours gifted so far, 50% of these by under 25s! This is a massive contribution by young people. As well as theur direct contributions, volunteers play an essential role freeing up clinicians' time, enabling staff to provide excellent patient care.
Our young volunteers say they really value being involved in the community, coming together with people of all ages and backgrounds to share kindness with patients, staff and relatives.
COVID-19 Response Volunteers connect relatives to their loved ones delivering essential items and 'letters to a loved one'. Over 1250+ deliveries have been made in 8 weeks. They also help by processing the generous donations from the local community, facilitated by @RaiseWestHerts at @WatfordFC stadium.
Young volunteer, Monica, says "The experience has been so rewarding".
Visit https://raisewestherts.org.uk/raise-a-hand/volunteer-stories/ to find out more about our volunteers' stories. Follow @WestHertsNHS  for more.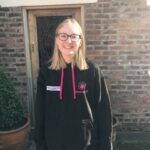 Thursday – From patient to Young People's Advisory Group
Bridget, 15
I volunteered to be part of a Young People's Advisory Group because I wanted to help make the information which is given to children and young people in hospital easier for them to understand.  It's difficult enough being ill without the stress of not understanding what you're told or given to read.
As a young child I was regularly in hospital. I found the information I was given about my illness confusing. I felt that if I could help simplify the process that would help. It's an amazing feeling to help other children and young people to have a better experience when they are in hospital or receiving healthcare.
This is why I want to help the NHS.
Friday – The Power of Youth Volunteering and Social Action in the Health Service.
Brad Gudger, 26, NHS Youth Expert Advisor and #iwill Champion
There is a reason youth volunteering appears in the NHS Long Term Plan: it is the future of the NHS workforce. I have spent my entire young adult life volunteering extensively to advocate on behalf of young people. These experiences have changed the direction of my life and been important to so many other young people I know.
Young people have a vital role to play in public life. At the break of the pandemic and beginning of lockdown, I had the privilege of working alongside other young volunteers to co-produce a communications plan in response to the impact of COVID-19. This experience exemplified how volunteering and social action has changed, particularly for young people from BAME and LGBTQ+ backgrounds. It has developed into a pathway not just for young people to give back and support their communities, but to provide them with opportunities to be the leaders of tomorrow.
Read my blog, written with Gabrielle Mathews, on why "Young People Matter."
Saturday – Using our experience to change healthcare
Scroll to view the next image. Artists:  Evie, 21 and Ellie, 17.
Friday – Volunteering will change your life
Seren, 24, NHS Youth Forum
Volunteering has been an incredibly meaningful part of my life since the age of 13 when I started volunteering at a cat home, where I eventually got my first Saturday job. When I was diagnosed with cancer at a young age, I wanted to be part of a bigger picture in being able to improve cancer services for my age group. To do this, I began to volunteer with CLIC Sargent as a member of their Young People's Reference Group and developed the confidence I needed to put myself forward for other opportunities in the charity sector. That was then I met the founder of the charity I now work for (CATTs, Cancer Awareness for Teens & Twenties) at one of their events, and started to volunteer at my university by setting up my own society, and educating my peers about cancer awareness.
In subsequent years, I've gone on to develop a variety in my volunteering that reflects my passions and future career goals, like sitting on health boards for the NHS, hospital and ambulance services alike, and being an Event First Aider for St John Ambulance. As a result, I've met some incredible people within my community, been trained in life saving skills, and had my voice heard like never before.
Volunteer, it will shape and change your life!