2 November 2020
Earlier this year, #iwill partners UK Youth launched #YoungAndBlack, a space to share, listen and learn from the experiences of young Black people.
"We have been inundated with heartfelt cries and appeals from young Black people right across Britain who feel they don't have the opportunity or even the right to share their thoughts and experiences on racism in the UK and beyond.
We can already see that young people of all races are calling for organised, mobilised action. We will not leave them alone in this pursuit. We recognise the power of storytelling to create empathy and change. We recognise that being seen and heard is required to achieve justice. True system change will only come when we are able to discuss the role race plays in all parts of our society.
This is why, alongside organisations including My Life My Say and The Diana Award, and activist, Jermain Jackman, we came together to launch the #YoungAndBlack campaign."
In support of #YoungAndBlack, #iwill Ambassadors Lanai Collis – Phillips and Nyasha Duri, and #iwill Fund leadership board member Dunola Oladapo joined webinar discussions alongside other Black young people and professionals for open conversations on identity and racial justice.
Dunola Oladapo: Black female experience
Nyasha Duri: Being Black in the workplace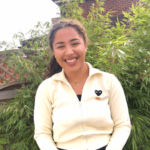 Lanai Collis-Phillips: Growing up Black in rural spaces