About us
Promoting practical action in the service of others
#iwill is a UK-wide campaign that aims to make social action part of life for as many 10 to 20 year-olds as possible by the year 2020. Through collaboration and partnership it is spreading the word about the benefits of youth social action, working to embed it in the journey of young people and create fresh opportunities for participation. The campaign is being coordinated by the charity Step Up To Serve, governed by an independent board and has cross-party support.
Our collective work was referenced in the Conservative Party manifesto published ahead of the 2015 General Election and has since been endorsed by Prime Minister, Theresa May MP. In announcing the new £40m #iwill Fund in September (2016) she said, "I want Britain to be the great meritocracy of the world and a fundamental part of this is ensuring all young people get the best possible start in life. This new funding demonstrates our commitment, and will be a huge boost for youth groups across the country – giving young people, especially those from disadvantaged backgrounds, the opportunity to gain the experiences and skills they need to succeed in life. This is all part of our determination to build a country that works for everyone– and ensure that young people can go as far as their talents allow, regardless of their backgrounds."
Her comments were supported by Minister for Civil Society, Rob Wilson MP who said: "I want this funding to attract additional investment from a wide range of sources including local organisations, businesses and philanthropists. The #iwill Fund (alongside the new Youth Investment Fund), will give young people access to high quality and innovative services now and long into the future, demonstrating our commitment to ensuring they have the opportunities they need to develop skills for work and life."
The Labour Party also made specific reference to supporting #iwill in its' pre-election manifesto. This support has since been retained with relevant Shadow Cabinet and back-bench MPs confirming their backing of the campaign objectives.
#iwill partner organisations are working with the main parties in Scotland, Wales and Northern Ireland to secure fresh support from key policy-makers right across the UK.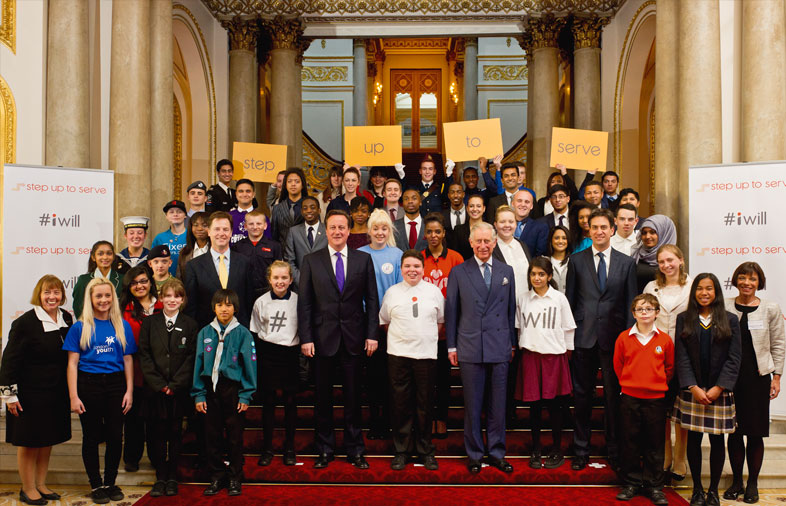 2013 – Patron of Step Up To Serve, HRH The Prince of Wales with party leaders and Step Up To Serve founders – Dame Julia Cleverdon (left) and Amanda Jordan OBE (right).
To us, social action means 'practical action in the service of others that creates positive change'.  This benefit is to the young people themselves and the communities in which they live.
Our Vision is that every young person in the UK is taking part in this kind of  'quality' social action and we'll achieve this by inspiring leaders from across society to create fresh opportunities for 10-20 year-olds to take part. If we are successful more than 1 million young people will get the chance to engage in social action for the first time.
The campaign is backed by leaders from across UK society, led by HRH The Prince of Wales with renewed support from all of the main political parties. 
Origins
In 2012, the Prime Minister asked Dame Julia Cleverdon and Amanda Jordan OBE to review how to increase the quality and quantity of youth social action. After a wide-ranging consultation their report highlighted the barriers to youth social action and produced a set of recommendations.
Barriers included a shortage of activities in education from 10 upwards; confusion in the education and business sectors about the kind of initiatives they could support; failure to promote and inspire young people to take part; and an absence of a coherent vision to promote a culture of youth social action.
The recommendations were to create an easy to navigate "service journey" for young people; scale up programmes to fill gaps in provision; embed social action in young people's educational experience (school, further and higher education); develop a culture of promoting and celebrating youth social action comparable to effective programmes run in other countries around the world.
The review, concluded that an initiative uniting organisations and the public should be set up to increase opportunities for young people. This initiative should be time limited, add to existing activity, and be a research and advocacy body, not one running programmes itself. This initiative is the #will campaign that is being coordinated by the charity Step Up To Serve.