3 June 2020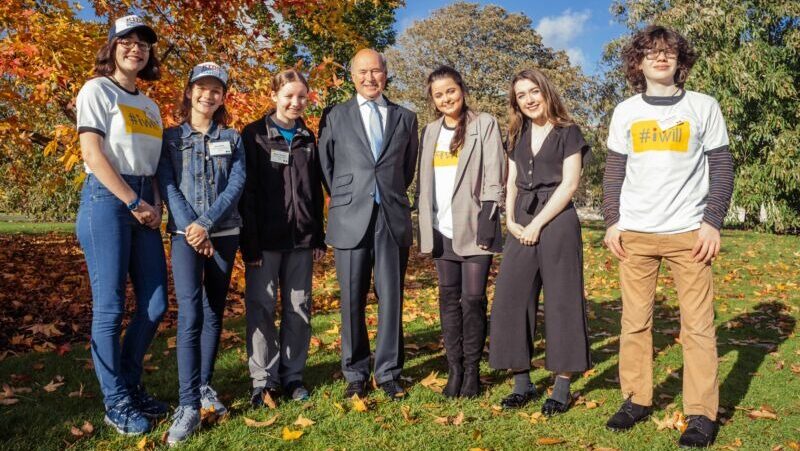 The #iwill community has recently received the news that #iwill Ambassador and tireless campaigner for organ donation, Lucia Mee, has died aged 20 following her fourth liver transplant.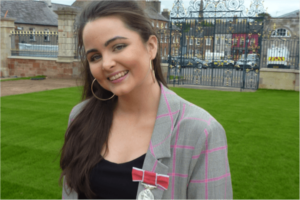 Lucia drew inspiration from her organ donors to create the campaign Live Loudly, Donate Proudly. She put a huge amount of energy into her campaigning, and was one of the youngest people to ever receive a British Empire Medal.
In the days before Lucia's death a new law was brought into England, following the path of Wales, to create an "opt out" organ donation system. This should save many lives in the years to come, and is the result of campaigns led by activists like Lucia.
We first met Lucia through Birmingham Children's Hospital, at a peer education project with Junior Volunteers on the Liver Ward, where she inspired them to become organ donation champions. As well as receiving care from Birmingham Children's Hospital, she was a dedicated volunteer.
Lucia joined us in November 2018 as an #iwill Ambassador, attending a welcome event at Kew Gardens with 50 other Ambassadors across the country. It was there that she received a Points of Light Award, presented by Lord Gardiner. Lucia also made lasting relationships with other Ambassadors from Northern Ireland and those who shared her passion for youth mental health.
We would like to share our most heartfelt condolences to Lucia's family and those who loved her, as well as to the #iwill Ambassadors to whom she was a peer and friend.

Lindsay Hogg, the lead nurse in Lucia's care at Birmingham Children's Hospital:
"Lucia is a young lady once met never forgotten.
She became a patient of the Liver Unit back in 2007 and has impacted on so many of us. Her smile, resilience, kindness and friendly approach to other patients, families and staff was awe inspiring.
She demonstrated bravery and strength to overcome so many hurdles. Her inspiration will live on in the children and young people who attend the Transplant Games, she was always there with an encouraging word to the more reluctant competitors.
The world is a poorer place without her, she has left an amazing legacy. I for one feel honoured to have called Lucia a friend and privileged to have been a part of her amazing life."

Volunteer Now, who coordinate the #iwill campaign in Northern Ireland:
"Many of our Millennium Volunteer 200 Hour Awardees will remember Lucia as she compered our Belfast Ceremony in 2019.   The packed Great Hall was still as she told her story and brought everyone on her own personal journey but it was also her eloquence and humility that touched everyone around her.  Lucia also participated with Volunteer Now remotely and through attending meetings whenever her health allowed and we will miss her foresight and honesty.
Our love goes to her family at this heartbreaking time and we echo Lucia's words of "Live Loudly Donate Proudly".

#iwill Ambassador Lucy Aur:
"Lucia was the girl who taught us to live loudly.
It's taken 26 minutes for me to start writing. How do I start trying to write a tribute when there are so many things to be said? How do I sum up the incredible life of Lucia Quinney Mee? Lucia was a real life Clark Kent – she never thought of herself as a hero, she was just a girl who had been lucky.
Having had her first of four liver transplants at the young age of 8, she quickly became an articulate, determined and inspirational campaigner for Organ Donation. She encouraged everyone to have the conversation – to make us feel comfortable enough to have uncomfortable discussions. She started the campaign "Live Loudly, Donate Proudly" in 2015 and that was only the beginning of the positive impact she made. She is one of the youngest recipients of the British Empire Medal for services towards the promotion of organ donation (2017), dedicated #iwill ambassador, talented swimmer at the World Transplant Games – the list of her social action, her volunteering, her dedication to others is endless.
But, there is so much more to her than listing her achievements.  Lucia was in love with life. There was never a time I saw her not smiling.
When we both walked into Kew Gardens for the 2018 #iwill ambassador event, she made me feel calm just by walking next to me. We spoke to new people together so neither of us was shy, we helped each other stick our name tags on neatly, we raided the free breakfast with sheer excitement.
I didn't know for weeks that she had the BEM, she was beyond humble and never mentioned it. Great people are often quiet about their success because they don't work for reward but  for now I must tell you about the brilliance of Lucia Mee.
Lucia was like sunshine on your face, just being near her made you feel warm throughout. Lucia was positive everything would always be okay, her outlook soon became my outlook. If she could be happy despite everything, then I could be as well.
She supported everyone. She was the first person to write for my campaign "Renegades Foundation" in it's launch in 2019. The theme was "I am not defined by…" and she wrote about how her medical history wasn't her defining feature. Her story touched hundreds of people. She inspired everyone, motivated everyone, made everyone laugh. She spoke honestly about mental health and encouraged us all to believe better things were coming.
She supported me in this new venture and the campaign would not have been a success without her. My life was changed for the better from the day I met Lucia. She shaped my confidence with every conversation we had. She mended my moods with kind words and advice. She made the most of every day, she was always so thankful for her donors giving her extra years and she kept their memory alive through her campaign.
It is our duty to do the same for her. She wanted us all to live loudly and donate proudly, she set the example – all we have to do is follow.  Lucia was an earth shaker, a world changer. She was someone who made a difference and never expected thanks. Lucia, I want to say thank you for your part in my journey. I want to say thank you for always laughing with me, supporting me and lifting me up. I want to say thank you for educating so many on the wonderful gift of organ donation, for aiding in normalising talking about mental health, for showing us you can have struggled but still find the magic in everyday life."
It's hard to not feel angry that you were here for too short a time. You loved life and deserved it. However, you wouldn't want any negative feelings to be felt so I am doing my best to keep my head up. It's hard to turn the page when you know someone won't be in the next chapter, but the story must go on.
Lucia will always be here, her voice, her message, her legacy. We must be the things we loved the most about the people who are gone. She lived loudly, now we must do the same.
In Lucia's own words:
"It would be fair to say that a good proportion of what makes me, me – are medical conditions. But that's all it is. A proportion. It is not the whole of me. There is so much more to me, and to everyone. Your story is never just about one thing. So many things go into making us humans who we are.
I am hard working. I am resilient. I am sarcastic. I am a writer, a swimmer, a reader, campaigner, feminist. I am a small-town Irish girl who wants to travel the world. I am still learning who I am, how to be independent whilst living with multiple medical conditions. I'm figuring out what my future might hold."
You can read Lucia's blog "I am not defined by my medical conditions" here. CN: includes frank discussion of mental and physical health conditions. 
Cruse Bereavement Care have support available for young people experiencing grief. Young Minds also have this advice available. The #iwill Ambassador team is here to support any #iwill Ambassadors who would like to speak to us.